MAINTENANCE ANALYTICS AND REPORTING
See, sort, and act on your maintenance data with a few clicks
Use your data to prevent equipment failure, increase uptime, and reduce waste while cutting hours off your to-do list with Fiix analytics
Request a demo
Based on 700+ reviews on
Analytics
Measure the impact of maintenance and tell people all about it from a single dashboard
Get real-time updates on your dashboard
See metrics and KPIs change as data is logged in Fiix. Say goodbye to extra admin work and be confident you're making decisions based on the latest information.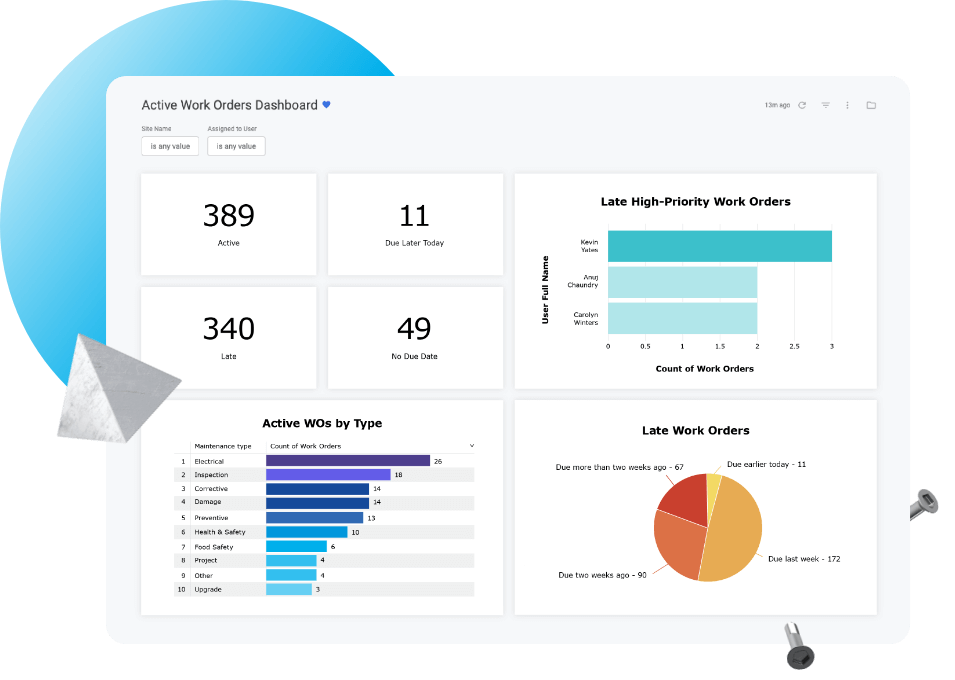 Look at important metrics on demand
Drag and drop different metrics into your dashboard and turn them into graphs or charts to create a data hub you can scan in under a minute.
Visualize team performance in seconds
Save time by using ready-made reports to view your team's past, current, and future work, costs, parts usage, and more.
Filter and explore data in hundreds of ways
Sort data by time period, cost, asset, and more. Click into results and pull up work orders from your dashboard to connect a single task with the bigger picture.
Share insights in minutes, not hours
Download data in XLS, CSV, and other formats, send results across your business, and schedule regular updates to technicians, executives, and everyone in between.
Turn your data into solutions, stories, and success with Fiix analytics
Build your Fiix analytics dashboard with pre-made looks instead of creating reports from scratch. And understand the impact of maintenance on your business by filtering your data in a variety of ways.
Completed work orders
View all the work your team completed by priority, maintenance type, and more
Work order insights
Powered by AI
See how your work orders impact uptime, throughput, and costs
Top assets
Look at your top 10, 20, or 50 assets by cost, work, and more
Parts forecaster
Powered by AI
Track parts usage and predict what parts to order for upcoming maintenance
Work order costs
See all work orders completed in the last 30 days and the costs associated with them
Asset insights
Powered by AI
Track maintenance levels on equipment and be alerted of anomalies
Cost
Spot trends in your maintenance costs so you can optimize tasks that are stretching your budget
Site
Track your metrics by site to make sure all your teams are on the same page
Time
See how data changes over time to track progress and connect action to results
Asset
Sort data by individual asset or asset categories to monitor the performance of equipment
Status
View all your work by type, priority, and whether it's open, closed, or in progress
User
Filter data by user or user groups to build better schedules, training programs, and more
Reporting
Use Fiix's report builder to dive deeper into your data, forecast your schedule, plan for audits, and more
Hit the ground running with out-of-the-box maintenance reports
Access over 100 report templates that tell you everything about your team's work order completion rate, upcoming PMs, labour hours, MTTR, equipment costs, and more.
Create maintenance logs that make audits a breeze
Show auditors what maintenance was performed, who performed it, and when. The audit trail keeps a record of all created and updated work orders, saving time and keeping you prepared for your next audit.
Create custom reports to help you hit your biggest goals
Design custom reports and use the data to build schedules, optimize parts purchasing, calculate costs, and more, while tracking the progress your team is making.
Use AI-generated reports to optimize your planning, purchasing, and scheduling
Forecast what parts you need for upcoming work, which work orders are likely to cause breakdowns, what tasks are causing delays, and more with Fiix Foresight's AI-powered reports.
See how a global energy service provider used data from Fiix to save over 2,000 hours a year
Explore our full maintenance solution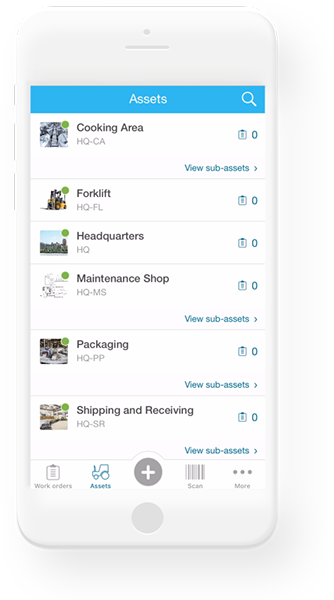 Learn how to get more out of your maintenance data
FAQ
What is maintenance software?
Maintenance software manages maintenance activities by organizing, planning, tracking, and analyzing all the jobs you and your team do on a regular basis. It makes maintenance more connected, efficient, and visible to the rest of your organization.
How to choose the best maintenance software?
Choosing the best maintenance software for your operation could mean the difference between improving your maintenance program versus wasting a lot of time and money. There are many maintenance software options out there, so it can be easy to feel lost or overwhelmed when choosing the right one. Below are three general steps when evaluating different types of maintenance software:
Get input from all key stakeholders: It's important to think about who will interact with the software, how they feel about adopting a new process, and what they need in maintenance software. Relevant people to consult include system administrators and maintenance managers, technicians, operators, reliability engineers, IT, and inventory managers.
Define your goals: You can't find the right solution if you don't know which problems you're facing. Begin by defining the problems you want to solve and establishing short and long-term goals.
Evaluate your maintenance software options: Establish your requirements and determine which options best fit those requirements. Examine the details of each software option-from the way it fits your facility to how much it costs, what features it has, and how it can be implemented.
What are the different types of maintenance software?
There are several types of maintenance software, which run the gamut from simple to sophisticated. There are basic systems that focus only on managing work orders and work requests, and more complex solutions (like EAM or CMMS software), which are used to document and manage all aspects of maintenance operations, from inventory management to reporting.
What is maintenance software used for?
Maintenance software is used for a variety of reasons, including:
Reducing downtime by ensuring equipment availability and extending asset life
Maintaining a safe and compliant work environment
Controlling costs by reducing labor and parts expenses
Organizing assets, documents, and work orders
Tracking maintenance KPIs and metrics
Ready to see more?
Talk to a CMMS expert today or take Fiix for a test drive.